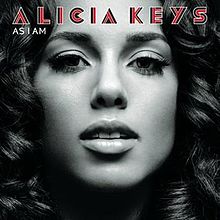 As I Am is the third studio album by American recording artist Alicia Keys. It was released in the United States on November 13, 2007 by J Records. Recording sessions for the album took place at various recording studios during 2005 to 2007. Production was handled primarily by Keys, Kerry "Krucial" Brothers, Jack Splash, and Linda Perry, with a guest contribution from musician John Mayer.
The album debuted at number one on the US Billboard 200 chart, selling 742,000 copies in its first week, and eventually earned a triple platinum certification from the Recording Industry Association of America. It became an international commercial success and produced four singles that achieved chart success, including "No One", which became the most listened song of 2007 in America. Despite some criticism towards Keys' songwriting,As I Am received positive reviews from most music critics and earned Keys several accolades, including three Grammy Awards. It has sold over five million copies worldwide.
Background
Edit
Keys had been working on the album since late 2005, but focused on it to a greater extent in 2006. She first mentioned the album's name to E! News reporter Giuliana Rancic on June 26, 2007 at the BET Awards red carpet pre-show. During the 2007 MTV Video Music Awards she confirmed that her album was finished. Earlier Keys had said to MTV: "It's coming together incredibly. I am in love with this album. It's very fresh and new."[1]
The album was heavily promoted, and special advertising was arranged in collaboration with MTV before and during the week of release. The entire album was streamed on MTV's website, beginning on November 6, 2007, a week before the album's North American release date. Additionally, Keys was MTV's Artist of the Week for the week beginning November 12, 2007.[2] MTV commissioned Evan Silver to direct series of nine humorous ads of Keys being harassed by someone in a bunny costume.[3] In the final spot, the bunny is revealed to be John Mayer.[4]
A limited number of vinyl records were pressed on double red vinyl at Nashville's historic United Record Pressing. They contain the fourteen standard tracks divided into two vinyls with seven tracks each.
On September 11, 2007, Keys premiered the lead singles from the album. The first single "No One" peaked at number one on the USBillboard Hot 100, becoming Keys' third number-one single and was also successful in other international markets, peaking in top ten positions around the world. Additionally, "No One" won two Grammy Awards in 2008 for Best R&B Song, and Best Female R&B Vocal Performance. A second single "Like You'll Never See Me Again" was released as a single and peaked at twelve on the US Billboard Hot 100 and number one on the Hot R&B/Hip-Hop Songs chart. The next single "Teenage Love Affair" peaked at number fifty-fourth in the US and made the top five on the Hot R&B/Hip-Hop Songs chart. The fourth and final single "Superwoman" peaked at number eighty-two in the US and reached the top twenty on the R&B chart. It also won a Grammy Award for Best Female R&B Vocal Performance.[5]
Reception
Edit
Commercial performance
Edit
The album became Keys' fourth consecutive number-one album on the Billboard 200, selling 742,000 copies in its first week; this amount is the largest ever first-week sales for any female artist since Norah Jones' Feels like Home sold one million copies in its opening week in 2004.[6] This made Keys' third consecutive multi-platinum studio album in the United States. The album spawned four singles; two of them became number-one hits on the Billboard Hot R&B/Hip-Hop Songs chart, while the others entered the top three and the top fifteen respectively. As I Am was ranked the US' best-selling album overall[7] and the best-selling R&B album[8] of 2008 byBillboard, while its lead single, "No One", became the most listened song in America that same year.[9] As I Am has been certified triple platinum by the RIAA as of January 3, 2008.[10] It is the fourth best-selling album of 2007 in the United States and the best-selling album of 2008.[7] In 2010, Billboard named it the seventy-sixth most successful album of the decade.[11] The album has sold over five million copies worldwide.[12]
Critical Reception
Edit
As I Am received positive reviews from most music critics.[23] At Metacritic, which assigns a normalized rating out of 100 to reviews from mainstream critics, the album received anaverage score of 66, based on 22 reviews, which indicates "generally favorable reviews".[23]Jon Pareles, writing for Blender, gave the album four out of five stars, saying that "Only 27, she has learned classic soul [...] Her first two albums showed how well she could renovate an old structure. As I Am advances by showing an experimental side."[14] Spincommented that Keys' songwriting has improvement from her previous work.[21] In a rave review of the album, Gregory Stephen Tate of The Village Voice praised Keys for her vintage soul influence and called As I Am a "complete work".[22] NME perceived the album as a departure from Keys' previous albums and described it as "streetwise, smoky set of real soul".[18] Entertainment Weekly's Neil Drumming described it as "Keys' most polished — if, at times, edgeless — album to date".[15] Slant Magazine's Sal Cinquemani wrote that "Keys isn't quite a superwoman come to save R&B from itself, but the timeless quality ofAs I Am is right on time."[20] USA Today gave the album three out of four stars and called it Keys' "most cohesive studio album".[24] Nate Chinen of The New York Times stated "As I Am radiates not just confidence but also experience", and called it Keys' "strongest effort yet".[17]
Keys' songwriting on the album received negative criticism from The Washington Post's J. Freedom du Lac, who called As I Am"disappointing" and wrote that it "reveals her considerable limitations as a lyricist".[25] Dorian Lynskey of The Guardian gave the album two out of five stars and called Keys "crashingly dull... her vaunted self-belief seemingly leaves no room for vulnerability, humour, insight or any of the other qualities possessed by the soul giants to whose stature she aspires".[16] Writing for Rolling Stone, critic Robert Christgau found the album's prevailing mood "reflectively soulful and the prevailing tempo mid".[19] In his consumer guide, Christgau gave it a one-star honorable mention () and simply stated, "Nice girl holds out," while selecting the album's songs "Teenage Love Affair" and "Wreckless Love" as best picks.[26] Despite commending the album for its "more traditional soul" and pop-oriented sound, The Observer writer Stephanie Merritt perceived Keys' lyrics as a significant fault and wrote "for the most part, the lyrics are so reliant on stock phrases - 'feel your touch', 'hold me', 'shoulda known', etc - that you could read anything you like into them without them carrying any personal feeling at all".[27] Chicago Tribune writer Greg Kot gave As I Am a mixed review and wrote "The main problem is that Keys' songwriting has yet to transcend her obvious influences".[28] Marisa Brown of Allmusic also viewed its lyrical quality as a weakness and gave it three-and-a-half out of five stars, writing that "even though As I Am is a flawed work — a little too poppy, a little too clichéd — it is also indicative of what Keys can and will do".[13]
AccoladesEdit
The album was number thirty-six on Rolling Stone's list of the Top 50 Albums of 2007.[29] The song "Teenage Love Affair" was number twenty-three on Rolling Stone's list of the 100 Best Songs of 2007.[30] As I Am received two Grammy Awards for the song "No One" at the 2008 ceremony for Best Female R&B Vocal Performance and Best R&B Song. The following year, she won the award for Best Female R&B Vocal Performance for "Superwoman" and received two more nominations for Best Pop Collaboration with Vocals for "Lesson Learned" along with John Mayer and Best Short Form Music Video for "Another Way to Die" along with Jack White at the 2009 Grammy Awards.
The album won a 2008 NAACP Image Award for Outstanding Album, while "Like You'll Never See Me Again" won for Outstanding Songand Outstanding Music Video. At the 2009 NAACP Image Awards, the "Superwoman" was nominated for Outstanding Song and Outstanding Music Video; it lost both categories to will.i.am's "Yes We Can". "Like You'll Never See Me Again" was nominated for theBET Award for Video of the Year in 2008. The album won two 2008 American Music Awards for Favorite Pop/Rock Album and Favorite Soul/R&B Album. As I Am received a nomination for Album of the Year at the MTV Europe Music Awards 2008. In 2008, Entertainment Weekly ranked it number thirty-three in its Best Albums of the Past 25 Years list.[31] The album ranked at #30 on Rolling Stone's list of Women Who Rock: The 50 Greatest Albums of All Time in 2012.[32]
Track Listing
Edit
Keys co-wrote and co-produced all of the songs on the album; additional writers and producers are listed below.
No.
Title
Writer(s)
Producer(s)
Length
1.
"As I Am" (Intro)
Kerry "Krucial" Brothers
1:52
2.
"Go Ahead"
Mark Batson, Brothers, Marsha Ambrosius
Batson
4:35
3.
"Superwoman"
Linda Perry, Steve Mostyn
Brothers
4:34
4.
"No One"
Brothers, George D. Harry
Brothers
4:13
5.
"Like You'll Never See Me Again"
Brothers
Brothers
5:15
6.
"Lesson Learned" (featuring John Mayer)
John Mayer
Mayer
4:13
7.
"Wreckless Love"
Jack Splash, Matthew Kahane, Harold Lilly
Splash
3:52
8.
"The Thing About Love"
Perry
Perry
3:49
9.
"Teenage Love Affair"
Splash, Kahane, Lilly, Josephine Bridges, Carl Hampton, Tom Nixon
Splash
3:10
10.
"I Need You"
Batson, Lilly, Paul L. Green
Batson
5:09
11.
"Where Do We Go from Here"
Brothers, Mary Frierson, Johnnie Frierson
Brothers
4:10
12.
"Prelude to a Kiss"
2:07
13.
"Tell You Something (Nana's Reprise)"
Novel Stevenson, Ron Haney, Brothers, Green, Mostyn
Kerry "Krucial" Brothers
4:28
14.
"Sure Looks Good to Me"
Perry
Perry
4:31
Sample credits
"Waiting for Your Love" – 3:53
"Hurt So Bad" (pre-order bonus) – 2:56

"Waiting for Your Love" – 3:53

Japanese limited edition (bonus CD)

"Waiting for Your Love"
"Hurt So Bad"
"Superwoman (Live)"
"No One (Curtis Lynch Reggae Remix)"

"Karma" (Live at the Hollywood Bowl)
"Heartburn" (Live at the Hollywood Bowl)
"Wake Up" (Live at the Hollywood Bowl)
Behind-the-Scenes: As I Am Photo Shoot
Behind-the-Scenes: "No One" Video Shoot
[edit]The Super EditionEdit
The album was re-released on November 10, 2008 in the UK and on November 14 (as an import release) and November 25 (as a mainstream release) in the US, titled As I Am: The Super Edition. The album consists of three additional tracks and a second disc of five performances at The Coronet in London.[33][34] The edition's lead single, "Another Way to Die", was written as the theme song to the 2008 film Quantum of Solace.[35]
"Another Way to Die" (with Jack White) (Jack White) – 4:24
"Doncha Know (Sky Is Blue)" (Keys, Linda Perry) – 4:24
"Saviour" – 3:22

Bonus disc: Live from The Coronet Theatre (London)

"Superwoman"
"No One"
"Teenage Love Affair"
Community content is available under
CC-BY-SA
unless otherwise noted.